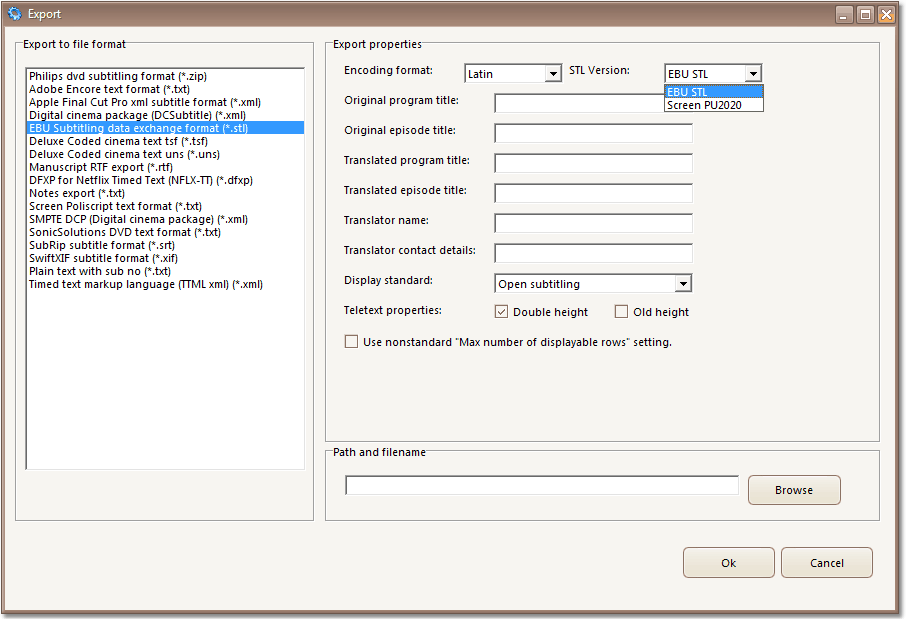 The EBU (European Broadcasting Union) format, which was supposed to be a common oasis in the subtitle file format desert, has - alas! - already been modified by Screen Electronics, Softel and others. The subformat is automatically recognized by our import filter, but if you want to export you must choose between the original STL format and Screen Electronics' version. Other mutations may get their own filter later on if the need should arise.
Encoding formats: Latin, Latin/Arabic, Latin/Greek, Latin/Cyrillic, Latin/Hebrew
STL versions: EBU STL, Screen PU2020 STL
Display standards: Open subtitling, Level1-teletext, Level2-teletext
The checkable nonstandard setting will load or save EBU STL subtitle files with Teletext row numbers 1-23 even though the file is not a Teletext file. So using this setting should actually be avoided.
Sub Machine's current framerate setting is used, although most subtitling software follows the standard EBU rules that only defines valid values of 25 or 30 fps.
See also: