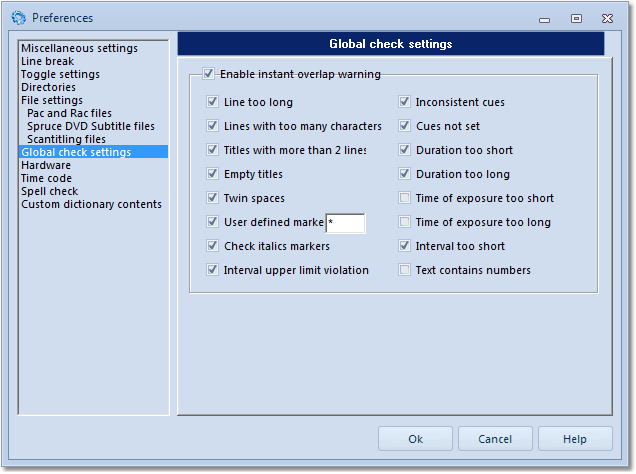 The global check routine will check for:
Line too long
If you want line length to follow Screen PU2000 parameters (or user defined Safe Area), this box should be ticked.
Lines with too many characters
Only relevant if you are doing teletext.
Titles with more than 2 lines
This routine also checks for empty lines and PU2000 "ghost lines".
Empty subtitles
More or less self-explanatory.
Twin spaces
Checks for superfluous space between words.
User defined marker (default: *)
You may write notes for yourself or your editor without any fear of your forgetting to remove them again, if you use a special marker each time and tick this option.
Check italic markers
Checks for "half baked" italics
Inconsistent cues
Check for time code overlapping.
Cues not set
More or less self-explanatory.
Duration too short
Duration less than user defined minimum.
Duration too long
Duration exceeds user defined maximum
Time of exposure too short
Timebar is in left red zone
Time of exposure too long
Timebar is in right red zone or beyond.
Interval too short
Interval value is lower than the minimum set
Interval upper limit violation
Interval value is higher than the minimum and smaller than the upper limit.
Text contains numbers
Numeric characters present
Furthermore, you may enable instant overlap warning here.