For security reasons Sub Machine has to be registered online. This means that the computer on which the program runs has to be connected to the World Wide Web via a modem or a LAN connection - at the very least during the registration process.
On registration the TitleVision server takes a "snapshot" of your computer's system information and sends back an encrypted key to insure that the program can run on that computer only. No personal information whatsoever will be downloaded from your computer.
If you want to use another computer later on (for example a laptop), there's no problem. All you have to do is to unregister the program from the old computer and then register it again from the new computer. Use this desktop icon: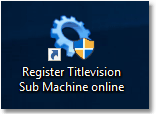 If the icon isn't there, use Start and search and find the Register TitleVision Sub Machine online option.
On registration/unregistration you will be prompted for:
1) User name
2) Organisation name (optional)
3) Serial number (should be there already if you have registered before. If you haven't, you must paste it in).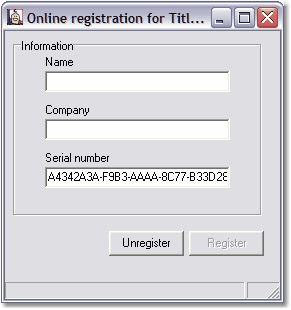 When you are registered the Register button is disabled
See also: