To do this, download the excellent tool Filmerit by Paul Glagla from his site.
There's a LOT of codecs on your computer. Some of them don't work very well together, and it's really not a good idea to delete any of them, so you have to tell the machine which ones to use.
For example MPEG files run so much smoother with Cyberlink's MPEG splitter than with Microsoft's own, so give Cyberlink's splitter the merit "Preferred" and the so-called "MPEG-I Stream Splitter" the merit "Do not use". To do this, you first have to click the padlock icon (green arrow) to activate the procedure, then highlight the filter you want to change, and click the merit editor icon (red arrow) to do the change.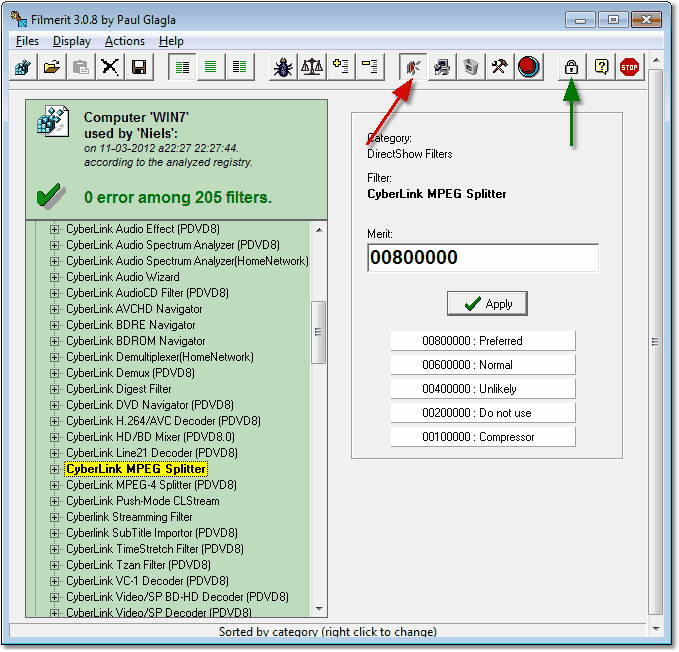 Oh, by the way ... if you don't have Cyberlink's MPEG splitter (CLSplter.ax) you can download it by clicking here. If you are having trouble with slow or unloadable MPEG clips, that is the solution.
After the download:
1.Put the CLSplter.ax file in your c:/windows/system32 directory. If you have a 64-bit system, put it in c:/windows/syswow64.
2.Register the file. This is done like this:
•From your desktop, click the start button.
•Click "Run" (on XP) and write cmd. (On Vista and Win 7 write cmd and right click the cmd.exe icon and select "Run as administrator". This is important.). If you are not already there, navigate to C:/windows/system32 (or c:/windows/syswow64 on 64-bit systems) and write "Regsvr32 CLSplter.ax". Now the file is registered, and you can see it as Cyberlink MPEG Splitter in Filmerit's list. Here you must give it the merit 00800000. And you must give the MPEG-I Stream Splitter a 00200000 merit.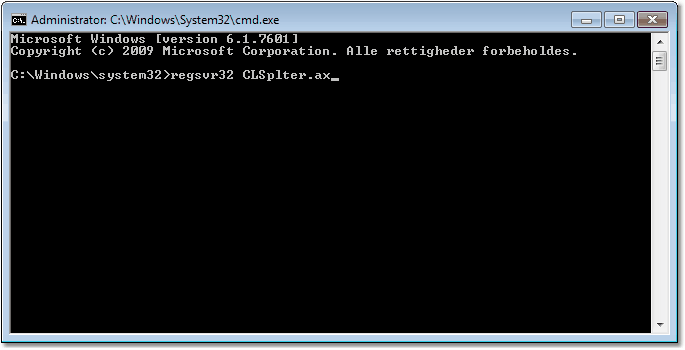 ---
Also, you can use Filmerit to disable an unwanted codec. For example the DirectVobSub codec will delay the loading of video clips for up to 45 seconds, if it is active, so if you find it in your system, give it a "Do not use" merit.