Any True Type or ATM font may be chosen as the font. If you use PAC and 890 files, the choice has no effect on the font used by the broadcast equipment, as the only things saved to disk are text, time code, italicization, and justification.
---
Default font is Arial. We also recommend: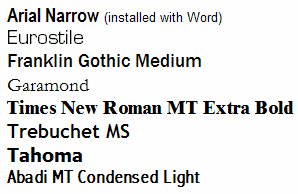 We also recommend two homemade typefaces that are installed with the program: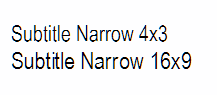 If you are having problems with truncated or displaced letters, please use one of these or similar fonts.
---
For monospaced text (teletext), we recommend our homemade typefaces



These fonts are automatically installed on your system. TitleVision Typewriter is set as default teletext font.
---
If the font chosen is too wide a premature line break will occur when the cursor reaches the right edge of the edit window. You can use the two line example in the layout window as a rough guide to avoid this:

This font (Arial) is okay. You can read the whole text.

This font (Verdana) is not okay. Some of the text is cut off.
---
Fonts are chosen with setup/layout configuration. In this menu you can also configure italics spacing and gutter size (free space on both sides of the text).
See also: