This function will change the framerate by stretching or contracting cues on all the subtitles, using from and to framerate values, and afterward change the global FPS (Frames per second) setting to that of the new framerate value.
"Time code start" is the starting value used to scale the existing time codes, so the larger difference between time code start and first frame cue, the larger amount of frames will be moved.
The text number 0 (zero) is ignored if it is a 00:00:00:00-00:00:00:08 cue text.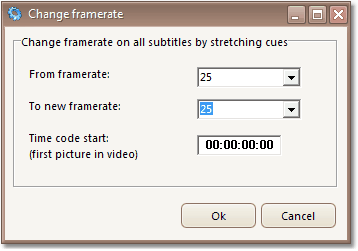 See also: