Lines too long
If you have problems with proportionally spaced lines being too long, you can do two things:
•Modify the Safe Area by fine tuning the limit. 100%=Approximately Screen PU2000 standard, so in order to make lines shorter, decrease the percentage.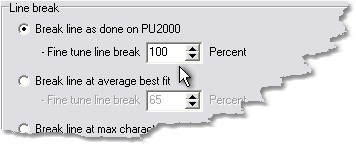 •Make your own right margin by selecting Setup/text indent and moving the rightmost slider toward the middle. The text will now break at the slider's position.

If you want a combination of the two systems (preparing subtitles for both teletext and use with proportionally spaced text), use one of these methods:
•Select these options: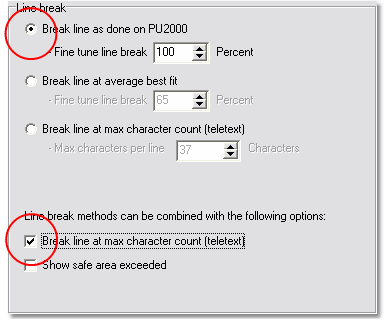 •Choose "Break line at max characters count" radio button and set a right margin fitting your needs, using the slider (Setup/text indent):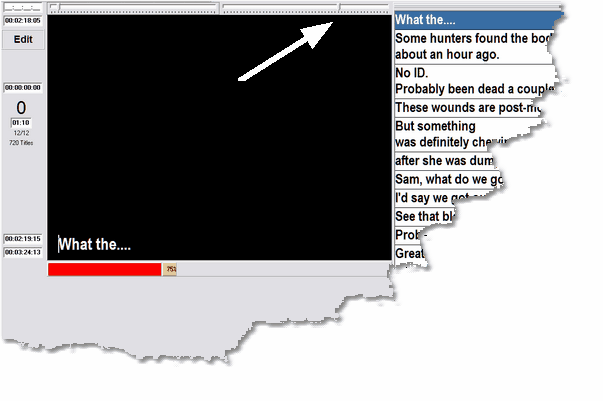 The text indent setting overrides the max characters setting.
An example: If max characters=37, you will not be able to write more than 37 characters, and if the right indent position is reached before you have written 37 characters, the line will break earlier.
---
Lines too short
•When the text reaches the right edge of the edit window, the line will break no matter what. To avoid this, use a narrow font (eg. Arial Narrow) or make the window wider (eg. 16:9)
If a line breaks too soon before reaching the rightmost border, check the Setup/text indent slider positions
---
Forcing lines to be longer than allowed
Use the Show safe area exceeded option in the Setup/preferences/line break menu: